This article contains Information about Kassiopi and things to do in Kassiopi, Corfu, Greece. Kassiopi is a small port resort on the north-eastern coast of the island, about a 90 minute drive from the airport.
Where to stay?
Kassiopi is a seaside town that has tourism at the heart of its economy. Visitors to the town have a wide range of accommodation options to choose from.
We picked Dimitrios Apartments, a self-catering complex of six apartments about 1.5 km outside Kassiopi.
Four of the apartments are two-bedded and the other two are one-bedroomed apartments. All six have balconies and there is parking space outside. The property has a private pool with sunbeds and umbrellas for shade.
The best feature of the accommodation is the spectacular view from each property's balcony looking across the Ionian sea to Sarande in Albania.
There are also a number of features that could be improved – the kitchen lighting is poor making it quite difficult to see what you are cooking and the small oven and hob are rather old and don't heat food up to a high temperature.
Do I need a car to visit Kassiopi?
Public transport is not particularly good on the island with no railways, and buses running sporadically. This can make it difficult, though not impossible to travel around the island. As Kassiopi is a port it is possible to travel to Corfu town and other resorts by boat but this is an expensive option.
Additionally, there are not a huge number of things to do in Kassiopi, so having a car is useful to explore other parts of the island.
Many visitors to the island opt to hire a car. A small car can be hired for around £70 per week and can be collected and dropped off at the airport.
As the main purpose of our trip was rest and relaxation, we opted to pre-book return transfers from the airport to our accommodation with Holiday Taxis. If we were to return we would definitely hire a car.
What is Kassiopi like?
Kassiopi is a small, charming resort that is centred around the small port. From the port the main street stretches south.
There are numerous restaurants in Kassiopi, a number of which specialise in local seafood as well as classic Greek and Italian cuisine.
There are two main supermarkets stocking a wide range of fresh, tinned and frozen food as well as household goods. We also found an excellent fruit and vegetable shop on the road that connects Kassiopi to the main island road.
Things to do in Kassiopi?
Kassiopi is a pleasant town with lots of cafés and restaurants. There are a number of beaches a short walk from the port for sunbathing and enjoying the sea. 
On the hill above the western side of the port are the ruins of an old fort which can be visited.
For those that enjoy walking, there are numerous opportunities for walking and hiking in the hills that lie behind Kassiopi.
Otherwise there are not many other things to do in Kassiopi.
Can I Book Day Trips from Kassiopi?
Many local travel agencies and tourist centres can arrange day trips and tours with hotel pick up included. 
Albania
Prior to travelling, we had pre-booked a trip to Albania. We were picked up from our accommodation at 7am and driven by bus to the main port in Corfu town. After clearing passport control we boarded a boat for the journey to Sarande, Albania. A trip to Sarande is relatively inexpensive at £20 per person including transfer from hotel to port and the sea crossing.
We opted to include the optional excursion 35 euros to the archeological site at Butrint. Our guide, met us in Sarande and on the hour-long journey to Butrint gave us an introduction to Albania, its history and culture.
The Roman ruins at Butrint are fairly well preserved and include a palace, fort, and numerous walls. We spent around 1 hour and 45 minutes at the site before enjoying a meal in the nearby Livia restaurant.
After lunch we returned to the new part of Sarande where we had 90 minutes free time.
The new part of the town has been built over the last 10 years with the intention of attracting wealthy western property buyers. We felt that it lacked character and were pleased that we had opted for the Butrint extension. If we had spent the whole time in Sarande, we would have been very disappointed with the trip.
Corfu Town
Our second trip was to the main town of Corfu. We opted to take a boat from Kassiopi harbour to Corfu Old Town and booked with Cosmos travel in Kassiopi.
The boat left the harbour at 9.30 am and arrived in Corfu at about 11.30 am. We were given 3 hours free time before returning to Kassiopi by 4pm.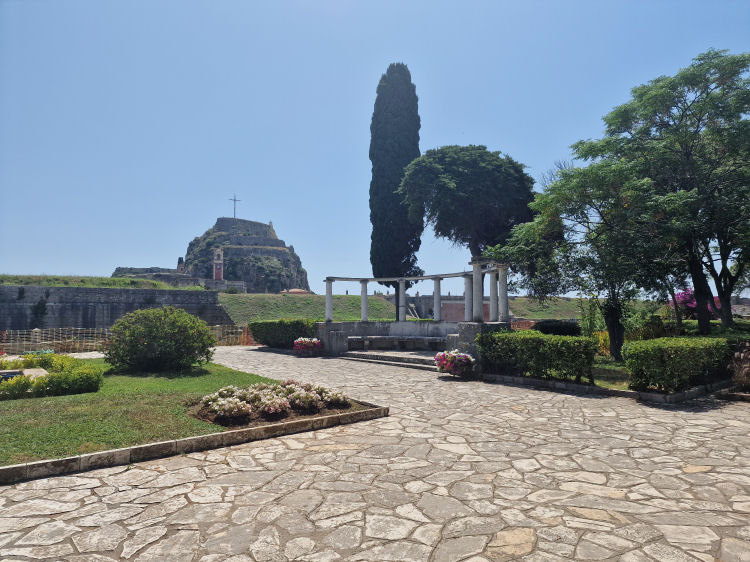 The 3 hours in Corfu town gave us time to see the new fort, the old fort, the Durrell Gardens and the Palace with time left over to enjoy a crepe in one of the side street cafés. However, there wasn't really enough time to go inside any of the attractions.