This was a 10 day tour booked with Explore and taken in April 2017. We chose to book a land only tour and arrange our flights independently because we wanted a day in Delhi to acclimatise before joining our tour.
We booked flights with Edreams and travelled from Heathrow to Frankfurt then Frankfurt to Delhi on 6th April. By making a short stop over in Frankfurt we saved enough money to pay for two nights in the Ashok Country Resort Hotel. Our flight landed at Delhi at 1am and we cleared customs by 2.30am. We had arranged for the hotel car to collect us from the airport and we finally got to bed at 3.30am.
Delhi
We didn't wake up until 10am so had missed the hotel breakfast but we were able to have tea using the hotel room facilities. We then took the hotel car to Connaught Place as we had thought to take the Hop on Hop off bus to see the sights of Delhi. However, when we arrived we realised that it was not really a hop on hop off service but rather a 4 hour bus journey which we did not want to do.
On the advice of a local, we took a tuk-tuk to the Red Fort in Old Delhi. Tuk-tuks are a great way to get around in India. Because they are open-sided passengers get to experience the noise, bustle, dirt and heat of India. The Red Fort is a huge impressive building opposite the Chandni Chowk Bazaar. We decided not to go inside but spent some time walking round the outside.

Next we decided to walk through the Chandni Chowk Bazaar. The bazaar is the most famous in Delhi and stretches for miles. It is divided into sections – jewellery section, clothes section, book section, food section etc. We soon realised that it would take us all day to walk round the bazaar so we hired a tuk-tuk for an hour to take us round the bazaar.
After the hustle and bustle of the bazaar we decided to take another tuk-tuk to the Lotus Temple. This impressive building is set in beautiful grounds and we spent some time just sitting in the lovely surroundings.
Having enjoyed the tranquillity of the Lotus Temple we returned to the noise of the city and took a tuk-tuk back to our hotel where we enjoyed a delicious evening meal.
The next morning we had breakfast then checked out of our hotel and took the hotel car to the Treebo Royce Hotel where we would be meeting our tour group later on. We checked in then took a tuk-tuk to Delhi Zoo. As we only had a short time at the zoo we took a private tour for an hour. Our guide took us to see tigers, leopards, monkeys, hippos, rhinos, antelopes, deer and a variety of birds.
At lunchtime we took a tuk-tuk back to the hotel to meet our Explore leader and the rest of our group.
Once everyone had arrived our tour leader took us by tuk-tuk to the Metro where we took a train to Old Delhi. We then took cycle rickshaws round the Chandni Chowk bazaar.
Afterwards we visited the Temple of the Nine Planets before taking the metro to a local restaurant. After dinner we returned to our hotel.
The next day we had breakfast in our hotel before boarding our coach for a tour of New Delhi. First stop was the Qutub Minar built to commemorate the first Muslim ruler of India.
Next stop was India Gate. Modelled on the Arc de Triomphe in Paris, this building was built to commemorate fallen soldiers. It was built in time for a visit to India by George V and Queen Mary.
Our final stop in New Delhi was Humayun's Tomb. Emperor Humayun was a Mughal and the tomb was commissioned by his first wife and completed in 1570.
After lunch we boarded the coach for the four hour journey to Agra.
Agra
We had an early alarm call at 4.30am in order to reach the Taj Mahal for sunrise. We spent two and a half hours wandering around the impressive building built by Shah Jahan in memory of his favourite wife.
After breakfast at our hotel we were taken to the Red Fort.
Here we decided to leave our group and meet up with them later in the day. From the Red Fort we took a tuk-tuk to the Baby Taj.
Built a few kilometres away from the Taj Mahal and on the opposite side of the river, this building is a miniature replica of the Taj Mahal and was built as a practice to make sure the dimensions worked. It was very hot and there were not many people about so we sat on a bench in the shade eating crisps and drinking water watching birds and squirrels dart about the gardens.
After spending a couple of hours at the Baby Taj we took another Tuk-tuk to the Taj Mahal Gardens. It was quite deserted when we arrived but got busier later as people arrived to watch the sunset behind the Taj Mahal.
Fatehpur Sikri
After leaving Agra we journeyed by coach into Rajastan, home to 220 million people. We stopped at Fatehpur, an ancient deserted city and visited the former mosque and palace.
Keoladeo Nature Reserve
After another short coach journey we reached the Keoladeo nature reserve. We were taken around the park by cycle rickshaw and despite the fact that it was out of season, we saw several types of birds including egrets, owlets, storks, herons, moorhens, doves and ducks.
After lunch we continued on to Karauli.
Karauli
We stayed in the Hotel Bhanwar Vilas, part of the Marharajas Palace built in the traditional old colonial style on a 40 acre estate.
We checked into the hotel in the evening and ate dinner at the hotel. Next morning, after breakfast, we travelled on camel carts to Karauli Palace. The palace is no longer used but is being restored to its former glory.
After visiting the palace we went to the local temple and watched the arti ceremony. We then had a camel cart ride back to our hotel and spent the afternoon relaxing in the hotel's beautiful surroundings.
We checked out of the hotel the next morning and began the journey to Ranthambore National Park.
Ranthambore
We reached Ranthambore in the early afternoon and after checking in to our hotel we boarded jeeps for an afternoon game drive. Ranthambore Game Park is famous for being home to a number of tigers as well as other animals. It is divided into sectors to avoid overcrowding of anyone area in the park, however, if there are no tigers in your sector then you have no chance of seeing one.
We were allocated sector 7 and unfortunately did not see a tiger. We did see a few antelope but would have liked to see other animals.
Despite repeatedly asking our guides if we could search for other animals instead our guides refused and instead left us sitting in the very hot sun, 42C, for more than an hour to see if tigers came to a nearby waterhole.
We had a second game drive early the following morning and were taken to sector 8 this time. We saw tiger footprints but then drove in the opposite direction so knew we would be very unlikely to see a tiger. Our guides today simply drove us around and didn't speak a word. We had to ask our driver to stop so that we could photograph the scenery and a group of monkeys.
While the scenery inside the park is amazing my own view is that the park is over-rated and one game drive would have been enough.
After returning to the hotel for a late breakfast we left Ranthambore bound for Jaipur.
Jaipur
We reached Jaipur in the early afternoon and visited the Jantar Mantar Astrological Observatory of Jai Singh.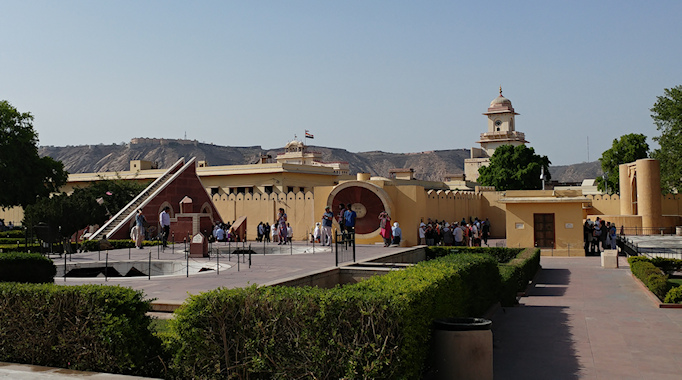 Afterwards we walked the short distance to the city palace. Inside the palace a film crew was filming a bollywood advertisement to be shown during the cricket so we escaped our guide and went to watch the filming.
The next morning we were taken to see the Palace of the Wind then on to the Amber Fort. The Amber Fort sits high on the hills overlooking Jaipur.
After looking around the fort we decided to leave our group and spend the rest of the day sightseeing and shopping independently. The inside of the fort is full of street sellers and we haggled and purchased some embroidered bed and wall coverings. We then walked to the gardens below the fort and stopped and enjoyed a cool drink overlooked by the pink coloured fort.
We had bought so much at the fort that we had to return to our hotel and drop off our shopping before going anywhere else. Once we were free of our bags we took a tuk-tuk and went to look at the Albert Hall which was built to commemorate a visit to Jaipur by Prince Albert in 1853.
Next we took a tuk-tuk to the Chandpool Bazaar where we browsed the stalls and spent more money. After walking the length of the street we decided to return to the Palace of Winds because our time there had been limited in the morning. When we got there it was very busy. We were also quite tired from walking the bazaar so we found a rooftop cafe opposite the Palace where we enjoyed a coke.
Once we were refreshed we returned to the street where we spent a couple of hours browsing the shops and spending our last rupees as we were flying home the next day.
Elefantastic
Our flight back to London was not until the afternoon so we had arranged a visit to the Elefantastic Elephant Sanctuary. We were collected from our hotel and driven to the sanctuary where we met our elephant and Raoul, the owner of the sanctuary. Visitors to the sanctuary are allocated their own elephant to be with for the duration of their stay. Our elephant was a pregnant female elephant that had been rescued from a circus. We fed her and painted her before giving her a hosepipe wash and then walking with her around the grounds.
After our time with our elephant, we were taken for a traditional Indian meal cooked by Raoul's mother.
All too soon it was time for us to leave for the airport and our flight back to London.
This was a great trip and I hope to return to India soon.